Take a look at our top gift guide for kids this Christmas! Our ultimate list includes STEM toys, arts and crafts, puzzles and more.

Here at The Early Teacher we make it our mission to find the best toys and games for Christmas that kids will love. Educational toys are great presents as learning through play is the best way to help boost your child's development while having fun.

If you have a little one and you aren't yet sure what the top toys are for Christmas 2022 then here's everything you need to know...
Our Christmas Toys List For 2022
Here's a summary of our Xmas toys list for 2022 - we hope you love it as much as we do, there should be something here for everyone!
Which are the best Christmas toys this year?
Selecting toys for children at Christmas can often be stressful, but at The Early Teacher we have selected the best toys for Children this year. Using our expertise in child education and learning through play we aim to take the guess work out of finding the perfect toys for your little ones.
Read on to find the best toys to buy this year along with an age appropriate grading and further information about why they make our list.
Savannah - Tummy Time Soft Fabric Book For Babies (0+)
Delight your little one with this multi-sensory, free-standing tummy time book from Taf Toys. Featuring a high contrast side for use from birth, and a colourful reverse once baby can focus more, this engaging book with crinkling pages is the perfect toy to take on the go!
Shop For Tummy Time Soft Fabric Book

Baby Robot - Sensory STEM toy (1+)
This cute amusing baby robot from Baby Clementoni is designed to allow young children to develop their logical thinking, hand eye coordination and communication skills.
Sophie La Girafe - Fingerpaint Set For Kids (1+)
Hands on crafts with Sophie la Girafe! This SES Creative set contains everything young children need to start finger painting. Sophie la girafe apron, four large pots of finger paint, paper and cheerful Sophie la girafe animal cards to go on top. Fun for the littlest toddler and the outcome is always wonderful!
1-2-3 Build It! ™ Rocket-Train-Helicopter - Construction Set (2+)
Give your little engineers a 3 in 1 kit to mix and match and build their own Rocket, Train or Helicopter. Easy-to-assemble, chunky pieces are ideal for little hands to hold complete with multilingual packaging and activity guide. A great introduction to STEM toys.
Shop For Rocket-Train-Helicopter
Cocomelon Puzzles - Giant Progressive Floor Set (2+)
6 giant, increasingly difficult jigsaw puzzles featuring the characters from hit show CoComelon. Piece them together from the smallest to largest to create the whole Cocomelon family.
Sleeping Beauty Deluxe - Maze Game and Picture Book (3+)
Discover the magic of the Sleeping Beauty fairy tale with this original SMART puzzle game. Can you help the knight reach the castle? Or maybe you'd prefer to help Sleeping Beauty escape on her own! Try to find the path from the entrance of the maze to the castle without getting lost!
Jack & The Beanstalk - Puzzle Game and Picture Book (4+)
Discover the magic of the popular fairy tale with this SMART dynamic 3D brain teaser for preschoolers and beyond. Can you help Jack climb up the beanstalk to reach the castle in the clouds? Includes 60 challenges and features a family-friendly picture book with a modern twist on the original story.
GeoSmart Moon Lander Magnetic Construction Set (5+)
With 31 pieces including a Wireless Remote Control, build exciting Moon Lander vehicles with different coloured magnetic geometric panels and wheels (compatible with other GeoSmart magnetic panels)
EUGY 3D Cardboard Animals & Figures (6+)
41 different characters to choose from including Santa, Snowman and Reindeer. These 3D model building kits are the perfect item to complete your Christmas stocking.
Pirates Crossfire - Problem Solving Game (7+)
Fire up your cannons! If you love pirates and logical puzzles then SMART GAMES Pirates Crossfire is the game for you. With 4 different playing modes and 80 challenges get the family playing together this Christmas.
Dice of Fury - Mental Maths Multiplayer Game (7+)
Dice of Fury is a fast rolling mental maths game boosting mental agility and overall number competency through play. Best for 2-4 players with two levels of difficulty, complete 10 rounds of addition and subtraction games. Roll as fast as you can to fill your dice holder and be victorious.
Coding Charms - Fuse Bead Keyring Making Kit (8+)
Create cool and colourful fuse bead keyrings and learn about algorithms, sequencing, variables, binary, and much more while discovering important lessons in Science, Technology, Engineering, Art, and Maths (STEAM). Gain exposure to advanced coding subjects while having fun and making 15 adorable keychain charms.
Mechanics Antarctic Exploration Vehicles - STEM Construction Set (8+)
With an amazing 350 components, you can build 20 models of vehicles for exploring Antarctica, including a lorry, snowplough, tractor, hovercraft and many more. Using the incredible Mechanics Laboratory app from the Science Museum, the 3D interactive instructions make building the models easy and fun.
Cube Duel - 3D Cube Logical Puzzle (10+)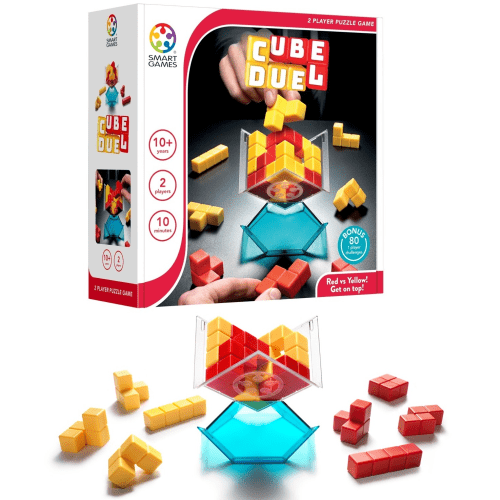 It's red vs yellow but who will end up on top? This 1-2 player game from SMART GAMES requires you to balance pieces, while strategically choosing between offence or defence. But most importantly you need to get your colour on top to win!
Looking For More Toys For Kids?
If our list of Christmas Toys for 2022 sparked your interest in our range or you couldn't find exactly what you were looking for why not search the rest of our shop!

The Early Teacher prides itself on selecting educational toys for kids that promote learning through play for children of ages 0 - 9+